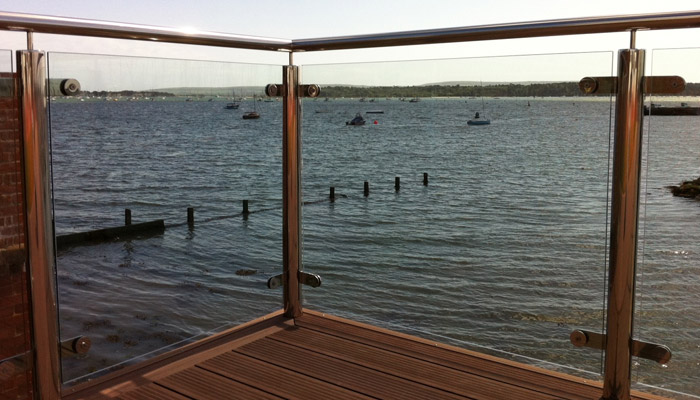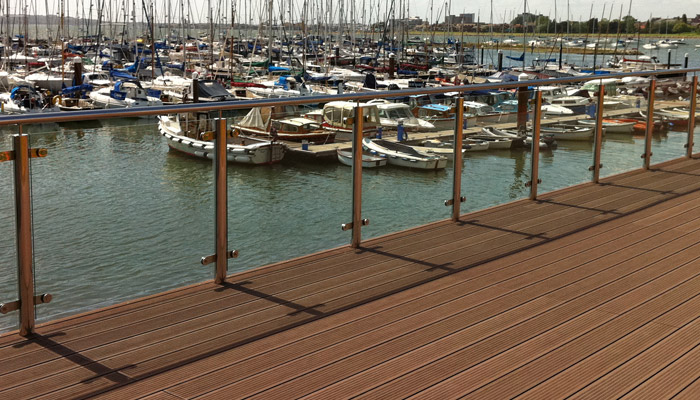 [Pictured above, Bespoke stainless steel balconies with glass panels in Parkstone, Dorset]
Global Steel Fabrications Ltd. is a leading specialist in the design and manufacture of quality frameless glass balustrades.
Glass balustrades offer uninterrupted views whilst giving a contemporary look to outdoor living areas.
Around swimming pools they are a unique way to pair safety with a stylish and modern finish.
Designed to fit your specification, glass balustrades made from toughened safety glass that can be all types of thickness including laminated, coloured and close patterns can be added to your individual specification.
Frameless glass balustrades are normally set into an aluminium channel, which can either be concealed below the floor, or created as an upstand to hide the edge of decking. The channel can be bolted to concrete using resin anchors, or straight to a secure steel. The steel can be galvanized for additional protection against the elements and the channel can be powder coated to any colour to give an overall pleasing and professional finish.
Glass balustrades can also be bolted directly to concrete, steel or wood using stainless steel or mild steel fixings which can be cloaked with wood or a powder coated alumunium flashing. If you prefer the fixings to be on display, they can be provided in polished stainless steel.
All products are manufactured with the latest state-of-the-art design and production equipment. Quality is frequently monitored to guarantee a faultless service.
No matter how complex your vision, Global Steel Fabrications Ltd. will help you achieve the desired result and will be happy to work with builders, designers, architects, interior designers and home improvers in the early stages of any project and undertake site surveys and produce design solutions to any steel fabrication requirement.